Latest News and Updates
4/21/2015
We're in the process of making Boogspace mobile friendly. Phase 1 was completed today.
11/28/2014
Fix problem with passwords of greater than 20 characters.
11/12/2014
Fixed photo uploading problem that only allowed images less than 200kb. Maximum photo file size is now 15MB.
11/6/2014
Added print wish list feature.
10/29/2014
Our Secret Santa Generator can now send SMS text message to 10-digit cell phone numbers.
10/18/2014
We have a new server! Everything should be faster now and more emails should be delivered without going into the spam folder.
11/23/2013
Tutorial added.
11/21/2013
You can now update your clothing sizes, favorite colors, stores, etc. Just click on My Favorites under Settings after you login. Also, group administrators can change the group name, which was previously disabled.
11/1/2013
Less than 2 months until Christmas. We've made some changes to our site. Check it out and let us know what you think!
1/16/2013
We've removed the archiving feature for wish lists. Wish lists are now rolling, which means that they are continuous, and you won't have to select a year to see an old wish list
12/2/2012
We've added a new feature to Boogspace. You can now import an old list into our Secret Santa Generator, so that you don't have to rewrite names and emails.
11/30/2012
Secret Santa Generator email issues should be resolved now. If your group members did not get their picks, then please email us or resend your lists.
11/25/2012
You can now send messages to your Secret Santa from Boogspace. Just go to the Send Anonymous Email section and select "My Secret Santas" from the dropdown menu.
11/1/2012
We've added a new tool for our Secret Santa Generator. You can now fix emails and resend picks through this new tool.
10/19/2012
The new website is live.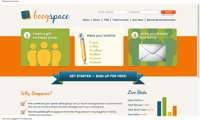 12/25/2011
Merry Christmas and have a Happy New Years everyone!
11/27/2011
Had some problems with photo uploading last night. The problem has been fixed. Photo quality changed to 140 pixels (px) versus 70px.
11/20/2011
Our Secret Santa Generator now supports sending picks through text messaging. Just pick names normally, and when you enter an SMS email address, the pick SMS will be reduced to less than 160 characters.
10/19/2011
We've made a few updates to Boogspace.
Usernames are no longer being used. Instead, all members must login with their email address.
The registration form has been simplified.
Descriptions have been updated to make navigating easier.
Other minor bug fixes.
9/6/2011
Gearing up for the upcoming Christmas season!
11/30/2010
Groups can now disable the home page photos. Just go the Admin Options section and turn "photos" off.
11/26/201011/23/2010
Here's a tutorial on using our Free Secret Santa Name Generator: Secret Santa Name Generator Tutorial
9/2/2010
Christmas is only a few months away! Time to get those wish lists up!
12/4/2009
Vote for Boogspace on KillerStarups.com.
12/3/2009
We've added an application to have participant picks resent. Please click here to access the new tool.
12/2/2009
We had a problem with the Secret Santa Master List from approximately 11pm EST on 11/30 til 9pm on 12/1. If you are a group administrator and you received another user's pick instead of the Master List, then please click here to access the tool to resend the master list.
12/1/2009
We had some problems with the Secret Santa Generator timing out on 11/30. If you used the generator yesterday, then please double check with each participant to see if they received their email. If not, please redo the pick. We've increased the script timeout to 10 minutes, so that should help.
11/20/2009
The new Boogspace Blog is up. Check it out. Feel free to post comments.
11/13/2009
Users can now edit & delete their own messages in the private group message boards.
11/6/2009
Message Board notifications have been reset to "yes". You can disable them in your My Profile section if you do not want new posted messages to be sent to your email account.
11/3/2009
10,000 gifts have been added to wish lists across Boogspace groups!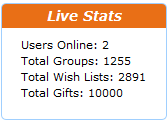 10/30/2009
Users can now create multiple wish lists to separate their gifts for different groups. Just go to My Profile | My Groups to create a new wish list.
10/28/2009
Added profile pictures to choose from. You can now select from 16 different profile pictures, just in case you don't feel like uploading your own.
10/24/2009
Message board notifications have been turned off for all users. To reenable, go to My Account and select Yes.
10/14/2009
You can now close your account automatically by going to the My Account section and clicking on Close My Account.
8/15/2009
RSS feed added for group wishlists. Now you can view all new gifts added via your favorite RSS reader!
7/6/2009
Boogspace will be undergoing some upgrades over the next few weeks. All changes will be listed here.

First names are used under the images instead of usernames. You can change your first name under the My Account section.
4/30/2009
Follow Boogspace on twitter and facebook!
4/7/2009
Boogspace will be undergoing some changes over the next few weeks, which will make the user experience much better!
12/2/2008
Gift ideas added to group home page. See what other Boogspace users are adding to their wishlists in real time!
12/1/2008
Boogspace Blog added to the main page.
11/28/2008
Had some issues with the register button from approximately 1AM EDT to 9AM EDT on November 28, 2008. The problem has been resolved.
11/15/2008
Fixed image upload problem for bigger sized files.
11/9/2008
Frequently Asked Questions updated.
10/26/2008
Secret Santa Random Name Generator added to the site! You can use this FREE tool to automatically pick names for your secret santa group.
10/21/2008
You can now invite your friends to join Boogspace! Click on "My Account", then "Invite Friends"!
10/1/2008
Boogspace forum created! Please remember that your forum information is separate from your Boogspace information.
8/22/2008
You can now disable your wishlist for certain groups. Just go to the "My Account" section, then click on "My Groups". This will be good for birthday groups or groups where there is only one person receiving the gifts.
2/25/2008
Boogspace.com redesign completed! Check out the new looks of Boogspace.com and let us know what you think!
12/15/2006
Multi-group function now working. To join another group, go to the "My Account" section, then enter a new group name. Wishlists will be displayed across all groups that you are a part of.
11/15/2006
Secret Santa automatic name picking is working now. Just click on "My Account", then "pick names".
11/14/2005
Anonymous messages are now working.
11/24/2004
Private message boards added to each group.
11/8/2004
Boogspace.com launched!